If you can commit to and live with the following purpose and principles then you are the type of person that will be successful and help our company thrive. If you feel this level of engagement is not right for you or you are not willing or able to participate with us at this level we are not a good fit for you.
Our expectation is that you will take the steps necessary to do what you say you are going to do and be accountable for your actions, in other words live above the line.
We understand that not every person is ready for this level of performance and we appreciate the honesty of those who decide that this is not the right place for them. On the other hand you would make an ideal candidate to join our company if you are willing to commit to the following principles:
Accountability. See it, own it, solve it, do it.
Become part of the solution.
Respect for others and their feelings.
Act now.
Ask the question: what else can I do?
Ask the questions: What coaching do you have for me? What can I do better
Personal ownership and pride.
Reject average.
Show others that you care.
We're always on the lookout for motivated and inspiring people to join the best team in the business.
Every workday, we pour a tremendous amount of heart, soul, and time into our businesses.
There is nothing better than to get feedback from a client raving about the quality of an experience, or the level of service, or the ease-of-use of our site. We want every experience to be as close to perfect as possible.
We love to stay true to our entrepreneurial spirit and we live and breathe our passion for all things Kirby Browne. That energy and excitement makes Kirby Browne an inspiring, fun and rewarding place to work. At Kirby Browne, we celebrate difference, we support it, and we thrive on it. We are proud to be an equal opportunity workplace.
If you think this sounds like the place for you we would love to hear from you.
We're happy to receive your CV and introduction letter explaining why you would be a good fit for our company by email at careers@kirbybrowne.com
We are looking for a talented Social media manager to administer our company and clients' social media accounts. You will be responsible for creating original text and video content, managing posts and responding to followers. You will manage our brand image in a cohesive way to achieve the marketing goals.
As a Social media manager, we expect you to be up-to-date with the latest digital technologies and social media trends. You should have excellent communication skills and be able to express our company's and clients' views creatively.
Ultimately, you should be able to handle our social media presence ensuring high levels of web traffic and customer engagement.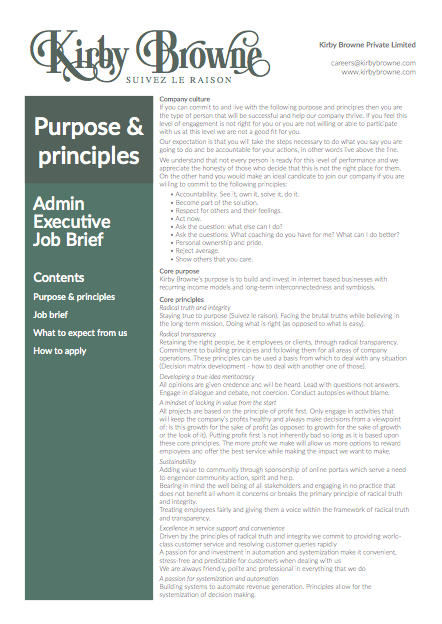 We are looking for a competitive and trustworthy Sales Executive to help us build up our business activities.
Sales Executive responsibilities include discovering and pursuing new sales prospects, negotiating deals and maintaining customer satisfaction. If you have excellent communication skills and feel comfortable reaching out to potential customers to demonstrate our services and products through email and phone, we'd like to meet you.
Ultimately, you'll help us meet and surpass business expectations and contribute to our company's rapid and sustainable growth.